The Mighty Vaporizer – Is the Mighty the Best Vaporizer? Read A Compete Review!
In this fast-moving world, many old techniques have been replaced by some better ad cooler ideas that are preferred by the new generation. Even older people are starting to adopt these new trends. Among these inventions, vaporizers are becoming popular all over the world. People belonging to different regions of the globe increasingly follow this practice. This is not confined to only one state or country, in particular, it is spreading all-around at a fast pace.
WHAT IS A VAPORIZER?
A vaporizer is a device that allows you to vape the herbs or other products, which depend on your choice. There are many different sizes of vaporizers available today. They range from mini sizes that are able to fit in your palms and range to big, huge sizes that are not quite portable and can be used indoors or are suitable for people who are more concerned about its performance rather than its size. They are so many colors depending on the model and company that you choose. Using a Vaporizer automatically gives an impression of being super stylish
In this article, I will provide a review of the most talked-about vaporizer in town that is the Mighty Vaporizer.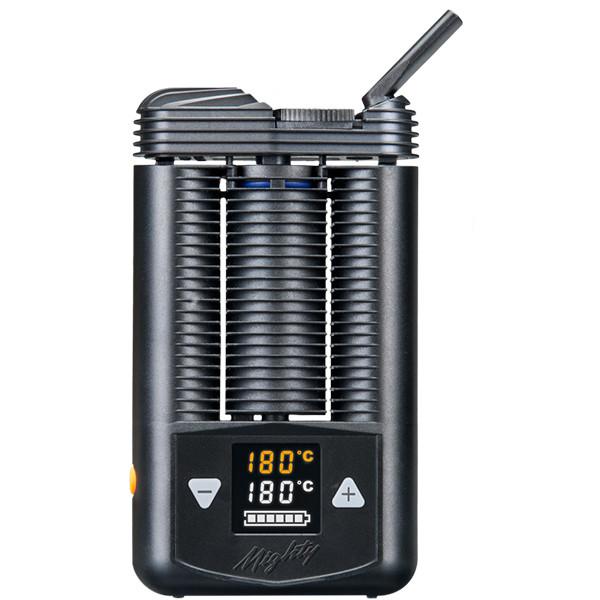 For Dry Herb and Concentrate
Precise Temperature Control
Full Convection & Conduction Heating
Haptic Vibration Alarm
$349.00
20% OFF – USE CODE VAPOR420 AT CHECKOUT
The Mighty Vaporizer is an intelligent invention by Storz and Bickel, which has the power of the Volcano Vaporizer. Being a vaporizer is a newer way to smoke which gives you a sporty feel. You feel amazing when you use the Mighty Vaporizer out in public settings. Although it is a little big in size it is cool if you want to show off your new gadget in front of your friends. This amazing device offers clean vapors and does not emit that huge amount of smoke like a cigarette. It filters out the herbs and gives off a fresh vape that leaves the surroundings unpolluted, unlike the cigarettes. Hence, it is a safer option to fulfill your desire for vaping. This unique masterpiece gets rapidly heated and consists of a digital display screen that allows you to control the temperature to an appropriate range.
HOW DOES IT WORK?
Using the Mighty Vaporizer is an easy task it comes with a power button that you have to push to switch on the device. The next step is to fill the compartment with the botanical ingredients or herbs, whatever you like, then set the temperature you want to have it on. The two buttons with + and ­­– signs help you to increase and decrease the temperature until you reach the desired temperature.
The display screen allows you to verify the temperature that has been set. It also tells you the status of the battery so you can charge it fully before you want to use it.
IMPORTANT FEATURES OF THE PRODUCT
The Mighty Vaporizer is made up of plastic is available in only one color, black. The material is of an excellent quality and does not melt even at high temperatures. It does not give off a burning smell when vapors are emitted.Therefore, you can use the other battery for more than an hour if the former one gets finished. Because of the dual battery compartment, the device takes up more space. Therefore, it is a bigger device compared to others offering the same functions however, the Mighty is durable.
Apart from its functionality, it comes with so many accessories to flaunt! An oil pad is there to use with the concentrates or herbs of any kind to promote the concentration of vapors. When you have filled the substance of your choice in the cavity, put the oil pad on the top and press it gently over the herbs or other concentrates to have high-quality vapors.
The second part that is extremely helpful is the grinder. It grinds the herbs in the texture you want.Therefore you do not have to do it manually. The variations vary from a fine to a rough grind. For the cleaning, it comes with a brush. Go through the instruction manual to know the steps for cleaning the equipment. The mouthpiece is detachable and comes out easily to let you clean the device properly
The Mighty Vaporizer, as its name suggests is not suitable to fit in your pocket. It is a portable device but you need to carry it in a bag or so. It takes up to 2 minutes to reach the optimum temperature
Having so many good points about it. There are some cons too. Its battery is drained off quick. It stays for almost 2 hours so it is not advisable to carry the Mighty Vaporizer if you are going on a long trip where you would not be able to charge it soon
Having said that I believe that the Mighty Vaporizer is a good choice for people who look for the functionality rather than portability
SHOULD YOU BUY IT?
Having said that before I would like to emphasize this fact again that if you prefer the quality of vapors to the portability you should opt for the Mighty Vaporizer as it is the right choice for you. It is great for people who would like to use it indoors and a charging socket is always available near them. It is also suitable for the pocket and promises to be a durable product. Do try it if you are a person who is interested in vaping and prefers you to use such fancy gadgets at home.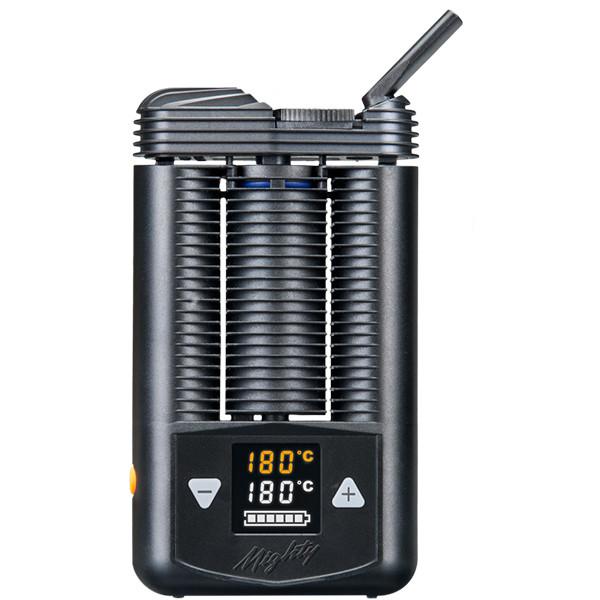 For Dry Herb and Concentrate
Precise Temperature Control
Full Convection & Conduction Heating
Haptic Vibration Alarm
$349.00
20% OFF – USE CODE VAPOR420 AT CHECKOUT
THE FINAL VERDICT
I believe that the Mighty Vaporizer is the best vaporizer available in the market at such a reasonable price. As it provides many benefits and comes with so many options to make using the Mighty a pleasurable experience for you and fulfill your wish to vape with a tint of style and have a cool impression on others. In short, it is overall an amazing experience with a gadget at the convenience of your own hands.
Happy vaping to you!