10 Best Vape Mod Starter Kit for Clouds in 2023
Introduction:
The previous year has witnessed some great advances in the booming vape industry and one could not be more surprised by how many consumers have actually transitioned into the Vape culture swiftly. Vape mods have been quite at the forefront when it comes to incorporating new technologies in the vaping industry.
What Are Vape Mods?
Vapers who starve for something bit more than e-cigs (1) and vape pens, slowly transition towards vape mods. Vape mods are not only larger in size than vape pens but are also more powerful and customizable and hence the choice of most vapers. Vape mods offer an array of additional features
Variable voltage
Wattage
Temperature setting.
While some vape pens do offer a degree of customization, none can produce much power which is usually the end goal. For the ultimate power, precision control, customization, and vapor production, vape mods are the way to go.
When picking the best vape mod, it all boils down to three categories: Experience, Budget, and Goals. In this article, we have tried to come up with the best vape mods in the market for the solution of vapers purchasing ordeals.
10 Best Vape Mods Of 2023:
SMOK Stick V8 Kit Review – V8 Engine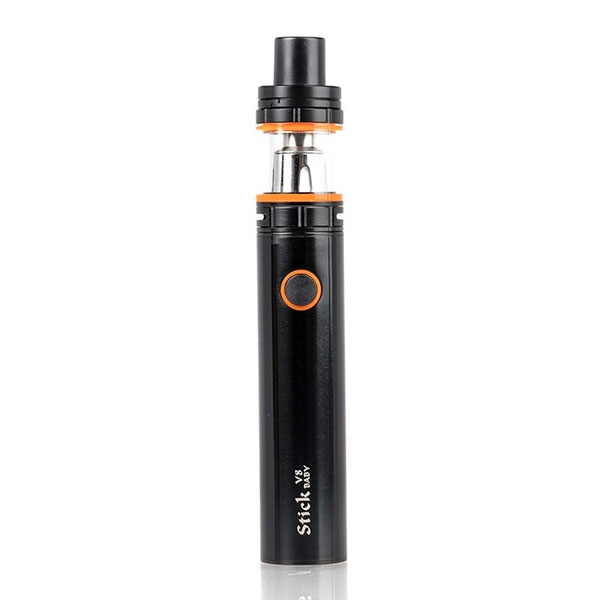 Features:
Capacity: 5ml
Coil: 0.3ohm V8 Baby M2 dual Core
Thread: 510
Material: Stainless Steel
Stick V8 Battery
Size: 24.5 x 75mm
Capacity: 3000mAh
Voltage range: 3.4 – 4.2
Standby Current: <200uA
This latest pen-style sub-ohm device is the latest on the market. If you want brilliant cloud-chasing performance and are new to the vaping world, the SMOK stick V8 Kit is just the right Vape mod kit for you. The intuitive plug-and-play power unit uses a direct-voltage system and features a stout 3000 mAh power cell capable of firing 15 amps in continuation.
The tube-style starter vape kit is aimed toward delivering sub-ohm performance, portability (grab and go technology), user-friendly approach, and quality to a demographic, which is, in short, clearly cut out for the novice vaper. All in all, the mod is perfect for beginners who don't want to do much but fill and vape.
Pros & Cons:
Pros:
Single button operation
3000mah battery
Amazing flavor
Compact
Cons
Smok coils are fluky
Can't control wattage
---
Vapor 2 Trinity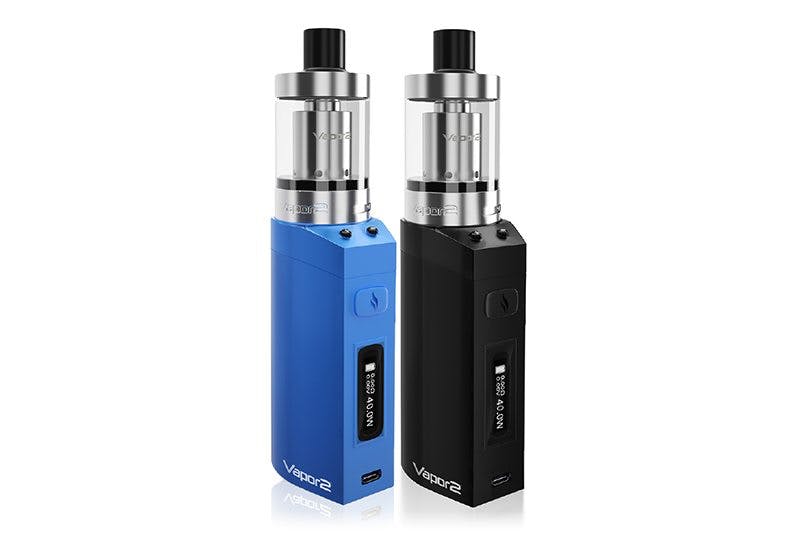 Features:
Operating power 5 settings -40 watts
Multiple coil heads
22mm diameter
Compatible with both VG and PG blends
Low voltage protection
Overheating protection
Over-current protection
Overtime vaping warning
It won't be an exaggeration to call the Vapor 2 Trinity Holy Grail of vaping industry. V2 has been continuously coming out with new products that are innovative and super powerful. Vapor 2 Trinity is yet another pocket-sized powerhouse which is currently a real cutting edge technology in the vaping industry.
As compact as this device deceives to be, there are variety of features packed into it. For a smaller device, this unit is as perfect for newer users looking for a serious upgrade as it is experienced vapers looking for a backup with discretion.Small, simple, and powerful, we'll show you why we think the Trinity is one of the best compact box mods available.
Pros And Cons:
Pros:
Variable wattage
Long battery life
Crystal clear LED display
Convenient top fill
Portable
Cons:
Tank capacity is on lower end
Mod is only 40 Watt
Limited colors(black and blue)
---
Lost Vape Paranormal 166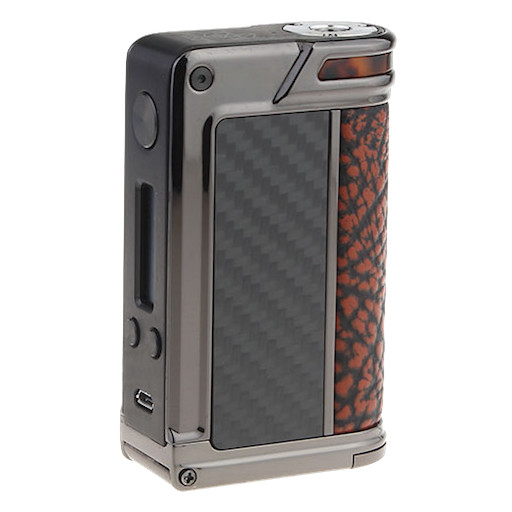 Features:
Manufactured by Evolv and Powered by DNA 250 Chipset
Throttled down to a maximum of 166 output power
Interchangeable Panels
Customizable from different kind of wood finish, leather and resin material.
Dual 18650 Batteries
Powered by two 18650 size batteries to meet your cloud chasing experience.
Dimensions: 91.5mm*27.5mm*55mm
Giving you the best of the best vaping experience, Lost Vape Paranormal 166has one of the most awesome looking exterior design.
It consists of a composition of bifold18650 batteries, which will ensure longer battery life and has a new battery door location for hassle-free battery changing.
The most amazing variable wattage mod right now, with option for customizable panels that makes the overall vaping experience truly unparalleled.
Package contents:
1x Paranormal DNA166 Box MOd
1x USB Charging & upgrade Cable
User Manual
Warranty Card
---
Eleaf iStick Pico 75w Starter Kit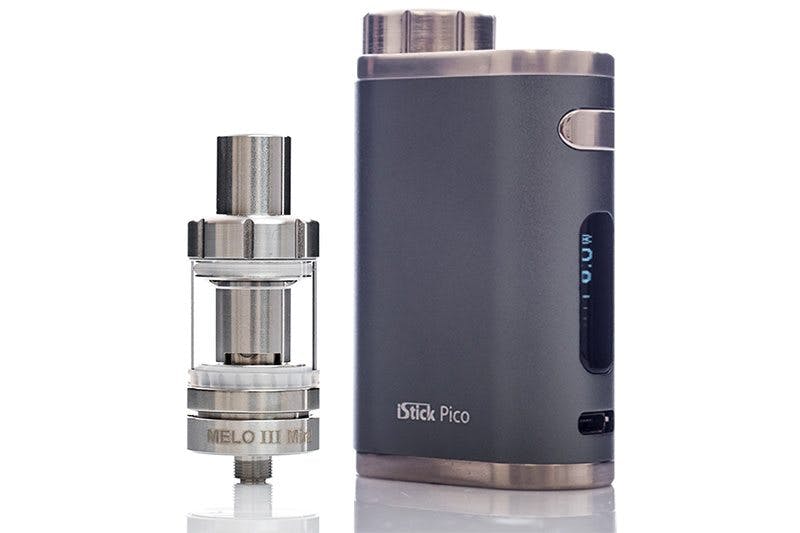 Features:
Size: 45mm x 23mm x 70.5mm
Max output : Upto 75W
Pass Through Vaping
Firmware upgrade via USB
Battery: 18650 cell, not included
C Mode: Ni / Ti / SS / TCR
Resistance range TC: 0.05 – 1.5ohm
Resistance range VW: 0.1 – 3.5ohm
The trend of coming up with palm sized vapes has been quite the thing recently and vape mods are no exception to this recnt influx. This is what the Eleafistick Pico brings to the table. The iStick Pico, just like its name, is preferable, innovative, compact and outstanding (PICO).
The Eleaf iStick Pico packs a lot of features into its compact body considering it come up with replaceable 18650 cells.
Package contains:
Eleaf Pico 75W Mod
USB Cable
User Manual
---
Innokin Coolfire 4 TC100 – 100W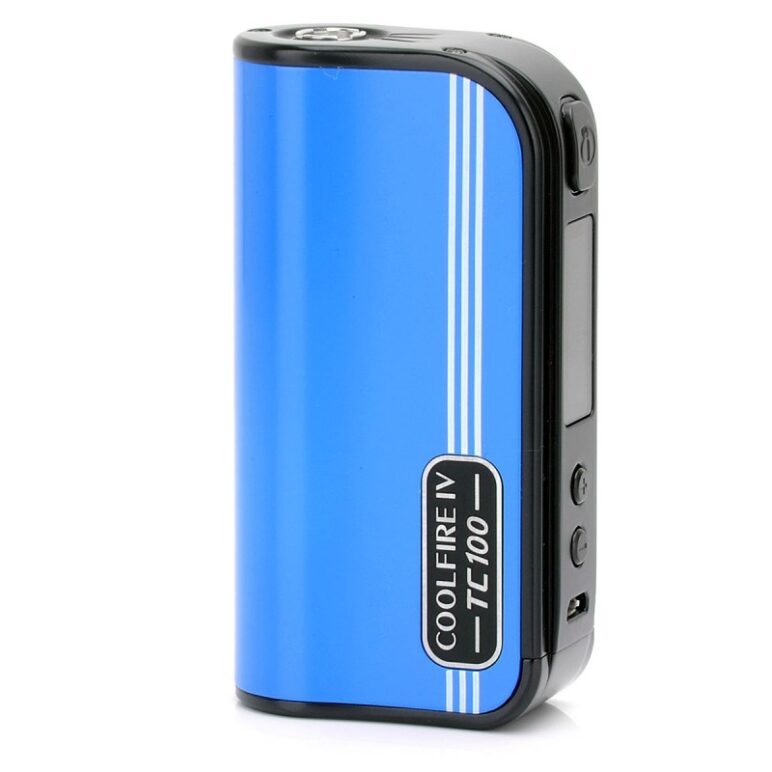 Features:
Pros:
Compact yet very powerful
Quick internal battery charge
Ergonomic design
User friendly
No lag from fire button to atomizer firing
Cons:
No atomizer resistance lock in temp control
The tank that comes with the kit is decent but average
With the new Innokin Coolfire TC100, Innokin once again tries to put forthup-to-date and exciting features on their devices.
Innokin mod is idiot-proof. Yes, you read that right. If you can read then, you can use the TC100 without any hassles. In fact, whenever you use a new coil head, the TC100 will adjust the settings automatically. The interface of the device also permits you to dive into the settings and learn how to customize your vape experience to your preference.
In my opinion, the Coolfire TC100 is probably the best box mod for beginners. So let's quickly share its features to further understand its features.
---
VooPoo Drag 157W Mod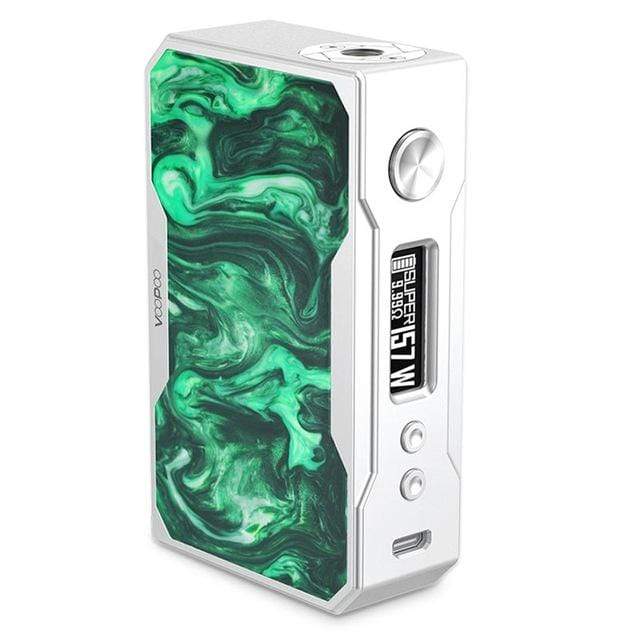 Kit Content
Drag mod
USB charge/upgrade cable
User manual
Warranty card
It is known as the best vape mod for its brilliant wattage mod, out there in the market.
All thanks to its 32-bit GENE chip. You get a variety of rich power options such as an advanced TCR mode, more in-depth variable wattage, and a PC app that allows you to create custom. You can even add a custom logo to the OLED screen!
This dual 18650 battery mod is also lightning quick with an instant fire speed of 0.025 seconds so you won't need any warm-up with the hits!
The VooPoo Drag has undoubtedly comes with a beautiful design but equally ready to take a beating since it's made with metal construction. The Drag comes in three different metal body colors (silver, black, or gold) and a variety of side plate options including some one-of-a-kind colored resin plates. Basically, this mod can be personalized to your tastes.
There may be mods out there that boast a higher wattage or a more artistic style, but none of them offer a complete package that any vaper would love to have liked the VooPoo Drag.
---
VapesoulVone 230w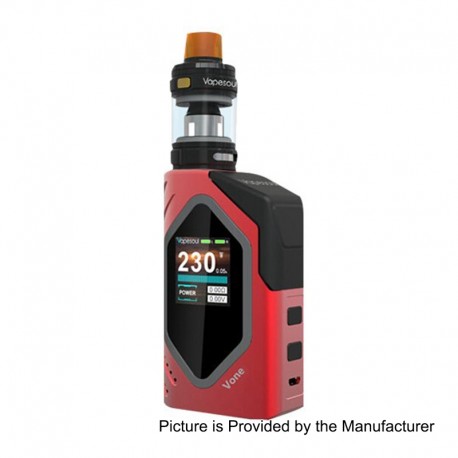 Pros and Cons:
Pros:
Big, bright color screen
Airflow amount on point
Easy to open refill system
Cons:
Gets hot at over 100W
Small e-liquid capacity on the tank
Hard to find replacement drip tips for the Vone tank
This once qualifies to be called as most rugged and well-rounded vape mod innovation of 2023. And why is it so? Let's get to know more about it. The VapesoulVone Kit is one of the best Box Mod right now on the market, with a unique feature of Bluetooth Anti-Lost System; you can now easily locate your lost vaping device (2). That means the new function allows you to pair it to a smartphone and find either one of them with the touch of a button if you ever forget where you left them.
Prices at $72, this is the most powerful Mod with maximum output of 230 watts. This beast is definitely recommended for vapers who love cloud chasing.
Package Contents:
Vone Mod
Vone Tank ( 2.0ml )
Vone Coil
Extra Glass
USB Cable
User Manual
---
Tesla Punk 220W Mod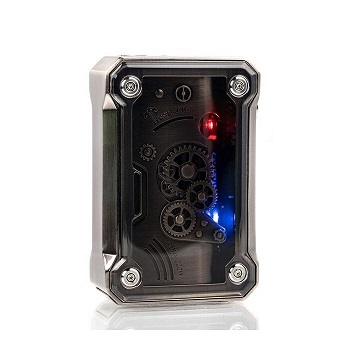 Kit Contents:
Tesla Punk Box Mod
Micro USB cable
User's Manual
Gift Box
Tesla punk 220 is style meets performance in true essence. It's powerful, well-built, and easy to use steampunk that takes the vaping experience to a whole new level. Vapers are able to see all the gears and cogs through see-through panels on both sides of the device along with customizable RGB LED lights that let you make this mod your own!
This steam-punk themed box mod conveniently grabs the limelight wherever you go, while the build quality on it is just stupendous. For a product priced just below $70 this feels super premium and the menu system is one of its highlights.
---
Cuboid Lite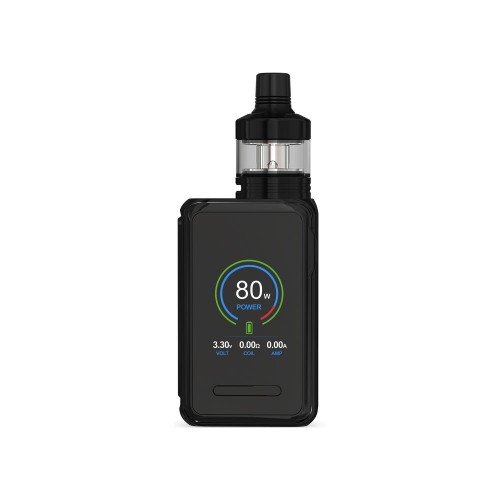 Pros:
Customizable
Gorgeous Display
Versatile Tank
Performs well throughout the wattage range,
Cons:
Tank Capacity
Cheap screen finish
This vape got its fair share of prominence from one feature and that practically took all the cake. A vaping mod with Nicotine Intake (3) Calculation, how awesome is that. It's a compact, it's a portable and yet aesthetically futuristic mod with an easy and minimalistic design.
Even in its tiny size, it has all the features that a variable mod should have, powered by a 3000mAh built-in battery making it the smallest box mod that you will ever see. With all the safety features that this mod can offer, it is definitely recommended to anyone even for beginners.
---
SMOK G-PRIV 2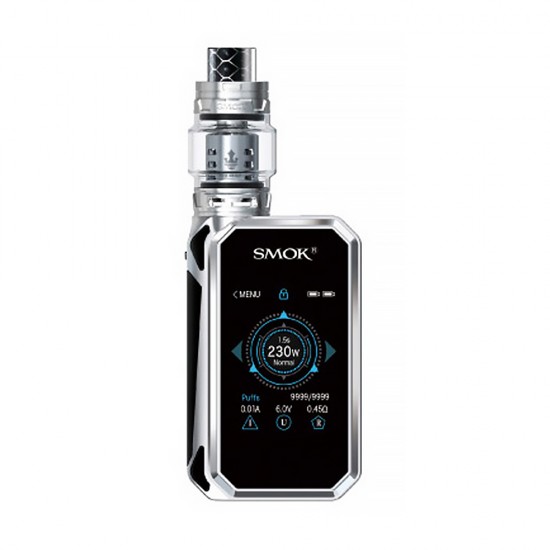 Features:
0a temperature adjustment range of 200°F – 600°F
Touch-screen Modinterface.
Separate Power Button
230 watts Maximum Output
Sizeable Firing Button
TVF8 X-Baby Tank
If you are looking for a vape mod with a touch screen interface, your search ends here with SMOK G-PRIV 2. This vape mod is an innovative, affordable device with cutting-edge sleek and ergonomic in its design and touch-screen interface. The SMOK G PRIV 2 230W is a digital beast and is one of the finest products from Smoktech.
Equipped with dual 18650 batteries will have no problem firing sub-ohm resistance coil builds and can last you a longer battery life up to 2 days of regular vaping and a whole day of Cloud Chasing.
What's In The Kit:
Smok G-Priv2 Box Mod
TFV8 X-Baby Tank
Q2 Coil and T6 Coil (For cloud chasing)
Replacement Glass Tube
USB Cable
User Manual
Replacement Parts
Pros and Cons:
Pros:
Clear and crisp color display
Beautiful paint finish
Easy refilling
Top airflow
Cons:
No auto-lock features
Puffs end at about 999
---
Conclusion:
Vape Mod, as you can notice from the word Mod itself which is referred to as a Modified, advance and bigger/better version of Vape Pens/ E-Cigarettes designed for the latest and more powerful Sub-Ohm Atomizers in the market.
Now selecting a Vape mod can be quite a daunting task if you are new to vaporizers since there is a new Vape Mod coming up in the market every single day. With this article, hopefully, all the confusion will be eliminated.