Suorin Air is one of the leading companies in the 21st century. It was first introduced as a company manufacturing vape and e-cigarettes, but after a few years, it started manufacturing durable pods as well. Since that time, it has continued to flourish in the market for manufacturing and introducing new and high-quality products.
Just as vape and e-cigarettes are the necessity of regular smokers, just like that, the pods are in demand by the youth and adults due to the latest technologies in the trend, and so, all the companies are in a hustle to make new and unique products. Out of them, the pods manufactured by Suorin Air have proved to be much convenient and versatile for users.
Suorin Air has emerged as a leading and well-acknowledged company in vape manufacturing as well. It has been the favorite of vape-lovers for many years.
So, let's have a review of some of the best electric cigarettes and vapes manufactured by Suorin Air and why they have been so much value in today's generation.
1.  Suorin Air Plus: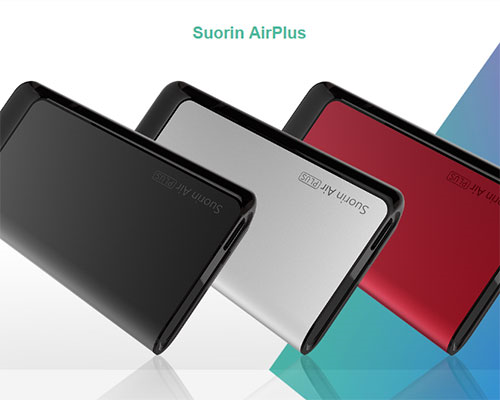 Just as elegant and sleek as it looks, the Suorin Air Plus is an impressive vape kit. It is much advanced and updated than its predecessor, Sourin Air. It is also called an electric cigarette because like old-fashioned cigarettes, it does not needs to be lighted up with a match stick. It is equipped with a powerful 930mAh battery, which takes almost half an hour to charge. The Suorin Air Plus comes with USB Type-C charging, and the best part is, you can use this vape while it is charging. This feature makes it more convenient and versatile to use.
Talking of the design and build, undoubtedly, this electric cigarette has won the game with its sleek and shiny look. This vape kit is available in a wide variety of colors, to make you choose your favorite. These ultra-thin and slim pods make it easy for you to carry them in your hand or keep inside the pocket. They are small and easy to carry, so you can enjoy a great experience whether indoors or outdoors.
The Suorin Air Plus has a capacity to hold up to 3.5ml of ejuice, always providing a great flavor to enhance the taste of your mouth. The ejuice can be clearly seen from inside the bottle, so you can always refill it before it runs out. Also, it has two pods in the kit: one to use with regular freebase nicotine ejuices, and the other to use with nicotine salt ejuices.
To add more convenience and a sleek look to the Suonir Air Plus, they have several LED lights that will indicate the battery life of the pods. They will off one by one, so if the last LED lights go out, you will have to charge it. As the battery life is indicated, it is always a good idea to charge it before the battery runs out.
Although the Suonir Air Plus does not have good airflow, it will still run smoothly with nicotine ejuices.
Pros:
Sleek design
3.5 ml ejuice capacity
930mAh battery
LED lights for indicating battery
Cons:
2. Suorin Air Pods: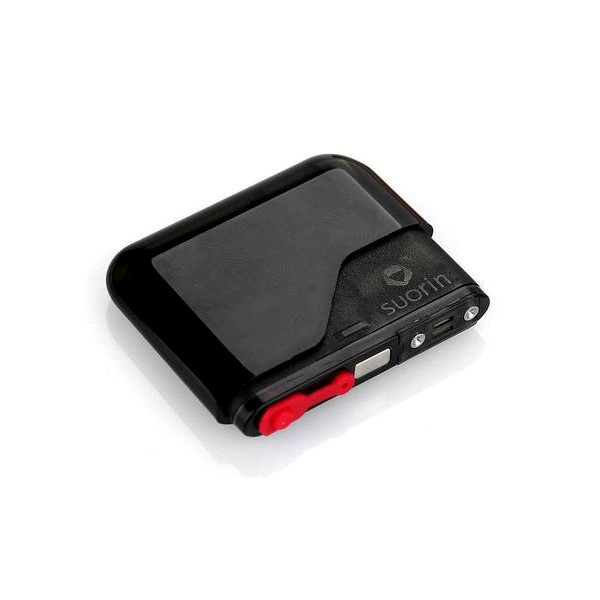 Suorin has been very careful in providing the best and portable vapes in the market, and the Suorin air pods are proof of it. These pods are delivered in high-quality packaging, so you can never hesitate to buy them online. A probably surprising thing of the Suroin Air pods is that they do not come with pre-filled juice in the kit so, you can fill it yourself and taste your favorite flavor.
Suroin Air pods are available in a wide range of vibrant and elegant colors. They have a slim body and are small and compact enough to let you slide them easily into your pocket. It is regarded as the thinnest vaporizer in the market, making it the best seller.
The Sourin Air is easy to use as it has a USB port at the bottom. This makes it easy to charge and the 400mAh battery provides quick charging and can last a long time, as compared to the size of the vaporizer. Also, it has an on/off switch, so you can just turn it on and start vaping.
As the tank of the Suorin Air has the coil built into it, when needed, you'll have to replace the whole tank. That's not a big problem as vaporizer tanks are cheap. Also, Suorin Air manufactures durable vaporizers and they can last for a longer time. Also, Suroin recommends that the vaporizer can be refilled five times, but this one has run smoothly even when refilled up to 10 times. So, the Suorin Air pods are better than almost all other vaporizers in the market.
The Suorin Air pods are undoubtedly the most versatile, durable, and long-lasting pods in the market. Their sleek design and easy-to-use features make them a must-have for anyone.
Pros:
Sleek design
Most slim vaporizer
400mAh battery
Can be refilled multiple times
Easy-to-use functions
Cons:
The package does not come pre-filled
3. Sourin Air V2: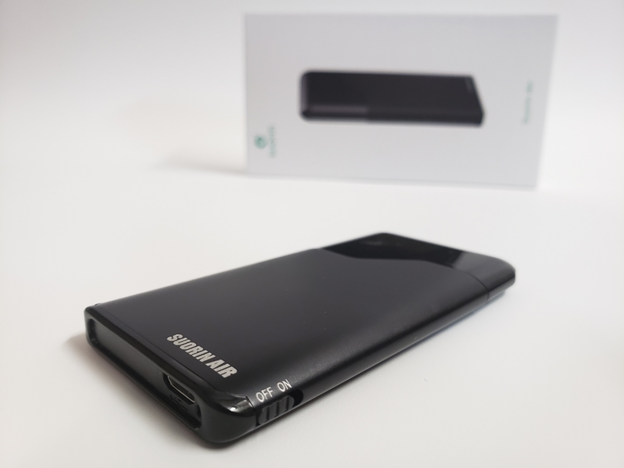 The Sourin Air v2 is mostly like its predecessor, v1, but it has better and convenient specifications that make it better than the v1. The Suorin Air v2 is small in size, with dimensions 88 mm x 45 mm x 8 mm and weight 36g. This makes it small and easy to store vaporizer. You can keep it in your pocket just like your wallet and take it with you wherever you go. Although the v2 is heavier than its predecessor and is not the slimmest vaporizer in the market, it has some advanced specifications that make it better.
The Sourin Air v2 has a battery life of 400mAh, just like many portable vapes in the market. The pods also have a built-in micro USB slot and are able to charge the vaporizer in less than 30 minutes. Also, the charge will last for a whole day, making it convenient to use. The vaporizer also has an easy on/off button, so you can use it with ease. This vaporizer also has LED lights that will inform you about the battery life. The charging won't take much time so, it's always a good idea to charge it before the battery runs out.
One of the impressive features of the Suorin Air v2 is that it is temperature-controlled. This vaporizer is therefore built with different electronics and coil material than the other vaporizers, making it an advanced and durable vaporizer. The pods of the Suorin Air v2 have a capacity to hold 2ml of ejuice. They are wide and much space is available to fill the juice easily. Also, you can fill all kinds of ejuices in this vaporizer and enjoy your vaping experience.
Pros:
Smaller than a credit card
400mAh battery
Compatible with all kinds of ejuices
LED lights
Sleek look
Temperature controlled vaporizer
Cons:
Conclusion:
Suorin Air is one of the leading vaporizer companies. We have mentioned some of their latest products in this review, but their products do not end here. A lot more durable products are waiting for you in the list.