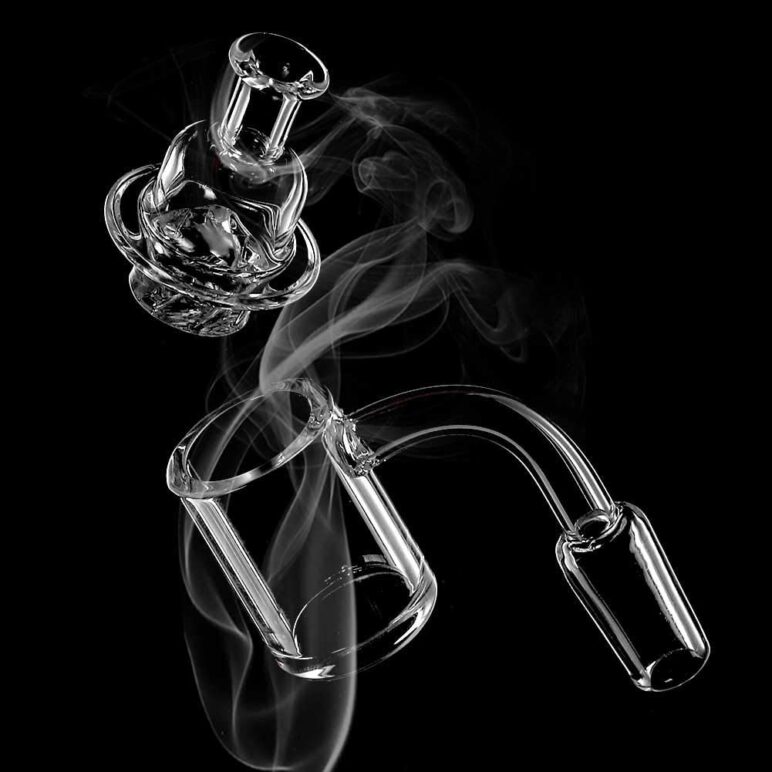 5 Best Portable eNail Options 2021
E-nail also called as electric nail and e-rig, is one of the advanced devices that were specially made for concentrate users. They have the ability to produce a consistent temperature and are most popularly known due to their digital technology that has made vaporization much easier. An impressive feature of the e-nails is that users can enjoy different temperatures ranging between 600 and 710°F. This provides thorough vaporization and users can enjoy a better and elite consumption experience.
E-nails have replaced the torch with an electric heating coil, and you can enjoy your desired temperature. That too, for a long time. E-nails are very easy to use as well as clean, and help you to enhance your flavor. They require no hot dabs or burnings, and will always ensure a great flavor. In this way, e-nails also function like vapes and you can use them easily.
With the advancements and demands of e-nail, many brands have started to manufacture different types of e-nails. No doubt, all of them are highly durable and portable and allows you to enjoy a better vaping experience with enhanced flavor. Many different e-nail options are available in the market and have gained much popularity in the past years. Let's discuss some of the best portable e-nails options of 2021.
1. E-nail Dab Kit
Tabletop Temperature Controller Pro Kit – Hybrid Quartz and Titanium:
E-nail dab kits were introduced for cannabis users as it can efficiently and quickly vaporize medicinal cannabis extracts. With the advancements in the marijuana industry in the states that declare it legal, the e-nail dab kit is used to provide strong doses of marijuana, eliminating its negative effects.
An e-nail dab kit consists of a PID controller for controlling temperature, power cable, heating coil, dag rig, and titanium nails.
The Tabletop Temperature Controller Pro-Kit – Hybrid Quartz and Titanium is regarded as the best-seller on Amazon due to its easy-to-use features and efficient and quick vaporization. This temperature controller kit can heat up in different ranges of temperature from 0-999F so, you can adjust the unit according to your needs. It has a maximum power output of 150W and a voltage of 220V, making it eligible to use at home.
Being a great value for the money, this e-nail dab kit by Dabpress is a high-quality product with a complete temperature control kit and 2pc quartz bowls. An impressive feature of it is the durable PID temperature controller, probably the most important part in any e-nail dab kit. This digital temperature controller has a 20mm heater coil that will work efficiently and quickly attain the desired temperature.
As of the vaping flavor, this temperature controller pro kit has ensured its durability as well. The titanium nail and hybrid quartz bowl will perfectly deliver an amazing flavor and aroma and will enhance your vaping experience. All the nails and accessories are made up of real titanium metal, which will make the product long-lasting. Also, it is easy to clean and maintain.
Being regarded as the best seller on Amazon, this Tabletop Temperature controller e-nail dab kit will never disappoint you in terms of vaping. It's instant heating and durable construction make it the favorite product of any vape-lover.
2. E-nail Dab Rig
Puffco Air Shifter Glass with Mountain Peak for Zen Carpet Concentrate:
E-rigs are also called e-nails because both have the same design and functions. Dab rigs are widely used for vaping and smoking as they have a glass pipe and provide a better vaping experience. Different dab rigs offer different kinds of smoke and proper knowledge is required for it.
The Puffco Air Shifter Glass with Mountain Peak for Zen Carpet Concentrate is regarded as one of the best e-nail dab rigs. Puffco is a well-acknowledged company in manufacturing smart dab rigs. This one is regarded as a smart rig because it perfectly handles all the process of vaping from the beginning to the end, it is probably the smartest of all the dab rigs in the market.
The Puffco smart rig contains many impressive features that make it the most portable of all. It has a powerful battery that can quickly charge in less than two hours. Its advanced temperature control features heat up the dab rig in only 20 seconds so, you can enjoy the best vaping experience with enhanced flavors.
To make it easy to use, this dab rig has been constructed with only two main parts: the base and the blubber. Because this is a glass rig, it has been equipped with a silicon base to make it protective and avoid any damage. The durable construction will ensure that your dab rig lasts for a longer time. Also, it is very easy to use, as it has only four heat settings. That does not mean that the Puffco dab rig is not efficient. It will always work perfectly to ensure the best vaping experience.
To make it more modern, besides the innovative design, the Puffco smart dab rig is equipped with an LED light band. It will display different colors and the vaping experience will be made better with its enhanced taste and aroma. It also includes 3 FREE Boveda 62% 8 grams of humidity packs to make it more convenient and versatile for users.
3. High5 e-nail
MICRO E-NAIL QUARTZ EBANGER KIT:
High5 is a leading brand in manufacturing vaporizers and e-nails. It emerged as a vaporizer and e-nail manufacturing company, and in the past may years, it has done justice to its aim. High5 products are known all over the world due to its durable vapes.
The Micro E-nail Quartz Ebanger kit is one of the best known high5 e-nail kits that will always give you a better concentrate connoisseur experience. It has the ability to quickly attain the desired temperature and will always attain the consistent temperature you require for the perfect vaping experience.
An impressive feature of the Micro E-nail Ebanger kit is that along with a portable temperature control feature, it also has an LED display, which makes it better and more advanced than others. All the components included in this kit are CE and UL certified, so you can use it easily and with convenience.
The Micro E-nail Ebanger kit is not left behind even in terms of temperature control. It is equipped with a high-quality thermostat that will quickly detect any temperature changes. Unlike most companies, its thermocouple is durable which makes it a versatile vaporizer. It also offers great temperature ranges, from 0°F to 1200°F, allowing you to set the temperature according to your requirements and enhance your flavor.
The Micro E-nail Ebanger kit has also been introduced with the self-cleaning mode, making it the most versatile of all the vaporizers. You don't have to worry about cleaning regularly when you have this durable vaporizer in hand. It is best known for its low energy usage and compact body. Also, it has an automatic timer that will shut off the unit once the desired temperature is achieved. No doubt, the Micro E-nail Ebanger kit is one of the most durable and portable e-nails of all time, giving you a better and advanced vaporizing experience with enhanced aroma and taste that you always wanted.
4. 710 life e-nail
Pro 710 LIFE PID Heat Controller Thermostat:
710 life is also a well-acknowledged company and has grown much in the past many years. It is regarded as the best vaporizer company. It was generally introduced to provide durable vaporizers and e-nails to its customers, and in all the years, it has done justice to its aim. 710 Life products are valued all over the world and people buy them due to their advanced specifications and durability.
Pro 710 LIFE PID Heat Controller Thermostat is one of the most advanced vaporizers and is manufactured for people who want to stay updated with the latest technology. It has a great many options that make it a durable product. In the terms of aromatherapy, this vaporizer has won an award, making it the best option for any vape-lover. With this durable e-nail, you can enjoy the best flavor with a charming aroma that will provide a calming effect on your brain.
An impressive feature of the Pro 710 Life is that is compact and small enough to fit in your palm. It is a great technology as you won't have difficulty in carrying and storing it. Most companies manufacture such huge and heavy e-nail kits that it becomes difficult to carry them. With the Pro 710 Life in hand, you are safe from such inconvenience. It is small, can easily fit in your palm, and you can store carry it as you want.
Once you have the Pro 710 Life kit with you, you are free from any hassles. It is equipped with an AC powered, Mini Pro Aromatherapy kit, which makes it so much convenient that you will never have to charge it. In this way, it is the most durable and long-lasting product anyone could have, making it worth the price.
5. 510 e-nail kit
Greenlightvapes G9 510Nail kit Ceramic Heating E-nail:
Greenlightvapes is also one of the leading and growing companies in vape manufacturing. Their products are said to be durable and can last for longer years.
Greenlightvapes G9 510Nail kit Ceramic Heating E-nail will be your go-to product if you're looking for durable and easy-to-use e-nails. It is made up of metal glass with a transparent color, which provides an elegant and sleek overall look to this e-nail. Also, it can attain a maximum power of 75 watts, enough for any ceramic heating e-nail. The glass is perfectly protected and is strong, so you won't lose your product after falling it down. However, care should be taken and cleaning should be done to ensure the long life of the product.
The G9 510 e-nail is temperature-controlled, allowing it to attain a different temperature ranges between 0 – 600ºF. This will help you attain your desired temperature, giving a special aroma, and enhancing your flavor. This durable e-nail kit is small enough to fit in your hand and you can easily carry it to different places. To add more convenience, the G9 510 e-nail kit has a waterproof case to make it safe for travel.
With the G9 510 e-nail, you can easily heat up the ceramic nails within seconds. The temperature controller will ensure a consistent temperature, always providing a safe and enhanced vaporizing experience.
Conclusion:
These are some of the best and portable e-nail options of 2021. Many other options are also available in the market. Different brands are introducing portable e-nail kits in the market with better specifications than the previous products. It all depends on your needs that which one you need to buy.